For who is greedy for creativity
Fondazione Prada has it all

Who is fascinated by art, architecture, design and interior design can find something to do here. All disciplines under one roof.
Not only gold that shines
I got the tip from a local. We initially went on the bar Luce, looking for a fancy breakfast place. The Interior was designed by director Wes Anderson with a simple but appropriate corporate identity.

But Fondazione Prada is much more than that of course. It is exhibition space, cinema and creative architecture.

The first building at all in gold is The Haunted House, part of a former distillery complex dating from the years 1910, contains a permanent installation by Robert Gober and Louise Bourgeois.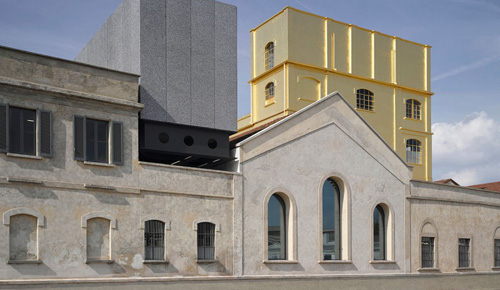 On the center square is the cinema, half of its façade is mirrors. In the basement you can find the permanent installation Grotesco Processo by Thomas Demand. An amazing 'imitation' of a cave in 3D printed cardboard that serves as the basis for a postcard picture. And the third in row is a 6-storey tower designed by Rem Koolhaas. Here you can visit the permanent ' ATLAS ' exhibition, with works by Carla Accardi and Jeff Koons, Walter De Maria, Mona Hatoum and Edward Kienholz and Nancy Reddin Kienholz, Michael Heizer and Pino Pascali, William n. Copley and Damien Hirst, John Baldessari and Carsten Höller.
Eye for detail
Of course, my eye fell on the house style in bar Luce, quite 'ordinary' for a bar with such allure, but none the less good. The choice of pastel shades fits the interior and gives it a young and fresh look.
The outdoor signage throughout the site is subtle and very flavorful with little white neons. My kind of style.

So who visits Milan should take the metro or the Mobike and go check out the atmosphere in Fondazione Prada.